Human Development: Towards Bridging Inequalities (HDBI) Project
| | | |
| --- | --- | --- |
| Introduction | | |
THE GENESIS
Since 1999, UNDP and Planning Commission have been supporting State governments in preparation of State level Human Development Reports and mainstreaming human development agenda in State and district planning. UNDP has supported People's Mid-Term Assessments of the five Year Plans of the Government of India.
Initiated in 1999 with the project Capacity Building for preparation of State level Human Development Reports (1999-2005), this collaboration was followed by the second project on Strengthening State plans for Human Development (2004-2009). In the first phase, the focus was on developing local capacities for preparation of State HDRs. Twenty one Indian States have prepared their HDRs in this phase. The second project focused on mainstreaming human development in State planning with activities spread across 15 States focusing on preparation of district level HDRs, engendering planning, strengthening statistical systems, capacity development for human development and providing options for financing human development.

An independent Assessment of Development Results that examined UNDP India's contributions to national development goals and its relevance and strategic position within the country during the period between 2004 and 2011acknowledges that engagement on HDRs is one of the most acclaimed contributions of the UN in India and that this collaboration should continue. The same view has been echoed by the mid-term review of the UNDP Country Programme Action Plan and validated by an evaluation of the UNDP - Planning Commission programmes on human development.

BACKGROUND

The project "Human Development: Towards Bridging Inequalities" (HDBI) responds to a strong endorsement from the Planning Commission, State governments and experts for continued relevance of the Planning Commission-UNDP collaboration on human development. The project focusses on providing innovative policy options for tackling issues of persistent exclusion, particularly at the State level. In this context, issues of inequality, with particular attention to gender and social inequalities are emphasised upon. Initiatives at the national level provide an enabling framework for translating human development agenda into action at the State level.
OBJECTIVES
The project aims at influencing national and State policies to improve human development outcomes through research and advocacy.
BUDGET
The HDBI project proposes to cover 15 States from 2011 till 2017 with a total budget of USD 2.7 million.
COMPONENTS

State level initiatives include: Preparation of State level Human Development Reports with a focus on inequalities , District Human Development Reports, Regional Human Development Reports, Research based policy advocacy on reducing inequalities and strengthening programme implementation, Capacity development, Strengthening statistical systems, analysis of fiscal policy including budget analysis, including from a gender lens, of partner State governments to achieve HD outcomes and use of Community monitoring tools.
National level initiatives includes- HD Policy advocacy, Preparation of Regional/Thematic Human Development Reports Capacity development, Strengthening statistical systems, Budget analysis for improving human development, facilitating knowledge sharing in the South-South context and among project partners.
HDBI project also aims to foster partnership across a range of stakeholders including Parliamentarians, the private sector, Civil society organizations, Universities, media, etc.
MANAGEMENT ARRANGEMENT
Implementation Arrangements

The project will be implemented by the Planning Commission in collaboration with UNDP. The project is anchored with the State Plans division, Planning Commission and the Joint Secretary (State Plans) is the National Project Director (NPD). The project team is based at the Planning Commission and provides support for day to day operations of the project.

The Planning Commission signs a budgeted Annual Work Plan with UNDP on an annual basis, as per UNDP rules and regulations, and submits signed financial report as per UNDP rules. As a co-implementer, UNDP undertakes certain number of activities in the annual work plans.

National Steering Committee has been constituted vide Office Order dated 12 January 2011 to guide, monitor, review project expenditures against activities and outcomes; and Approve Annual and Quarterly Work Plans. Likewise State are also required to constitute the State Project Steering Committee to provide guidance for project implementation at the State level.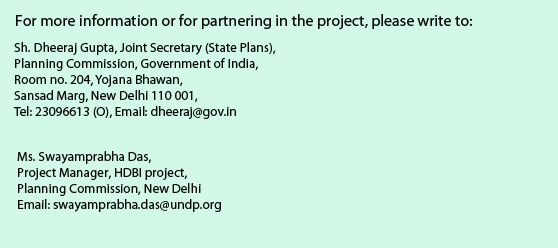 Geographical Extent of the Project